Applying full throttle for a descent isn't needed in order to start the landing [...] a certain threshold which seems to be in the ballpark of a throttle value of -8300 to -8500.
Well that explains that.
Now I'm just wondering how I managed to get down to within 2ft of anything under the Mini, when it was still 25ft higher than my bench?
The circle marks where I believe the drone was at the time that auto-land was triggered. Maybe I was further back than I thought and got within 2ft of that treetop? But if that's the case, how did it manage to not land into the tree when the Mini then descended 15ft in auto-land mode?

And I really don't think the Mini was anywhere near that tree. Even if it was, the drone was at least 20ft higher than that treetop at the time.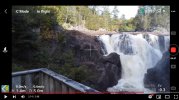 Did you watch the screen recording video in
post #58
? Any clues in there?
It makes sense that auto-land was triggered when the VPS height showed only 2ft with me holding down the throttle. But I'm still baffled as to why the log showed a VPS height of only 2ft at that point.