Joined

Feb 24, 2019
Messages

20
Reactions

1
Location
I just recently purchased an
Air 2S
. I have
Mavic 2 Pro
for almost three years. In general, I like the
Air 2S
due to the smaller size and a wider angle of view (22.4 vs 28mm). There are a few issues I am wondering if it is normal and should I exchange it.
1) Panorama (sphere & wide angle) - during a windy condition, most of the time, the camera would stuck in an angle and would not proceed. After it is cancelled, I could not change the camera setting (eg from Single to Smart photo), the message is something like "shooting in process, unable to switch modes". I could only reset the gimbal by going to return home.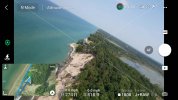 2) During one flight the day before yesterday, when I pushed the left stick down all way, the drone moved down extremely slow (9m35s - 10m21s). This is just outside the GEO zone and enhanced warning zone (2000 ft away), I did get a code from DJI to unlock the drone. I only fly up right above me to take some pictures. The drone was able to go up normally, but it resisted to come down. Only after I had a return to home, it was then able to come down normally. please see the flight log just before return to home.
3) During one hand launch, the drone suddenly move sideway 10 feet as if there is a gust of wind blowing it away (0m1.5s - 0m3.1s). My knee was down in order gave a support to the controller during launch. It was normal after that.
4) In two flights, my iphone 8+ was so dark to see (latest DJI fly), I had to terminated the flights. The iphone brightness is at the maximum. DJI Go for
Mavic 2 Pro
does not have this problem. I saw someone posted similar problem on youtube for
mini 2
, but did not remember the cause for this issue.
5) In panorama mode, when point the camera down to take a wider angle shot (9 shots), most of the time, straight line pattern (such as a street) are not aligned correctly. Lightroom stitching is ok, but the final output has a curved shape for a straight street. See the highway on the left.

Thank you!!