The time has come for me to part ways with my Mavic pro. It has been an amazing tool to have ever since the day it arrived at my doorstep. Fortunately for me, I've since then learned that I have more of a desire to build, fly FPV, and film using 200-250mm quads. It's been a slow transition for me, but I've finally come to grips with the fact that I do not use my Mavic enough to justify keeping it from it's next owner.
Do note that I am new to the forums here, I am more than willing to work with a nervous buyer on a comfortable transaction (as I am familiar with how these things go). If you're in the Tampa area, even better.
I'm going to attempt to make this as thorough as possible in the hopes of having a smooth transaction that leaves myself and the new owner happy with the transaction.
Note:
I do have this listed on the local selling app "Let Go" priced $50 higher than here, so be sure to send me a message as soon as you've made a decision as there may be someone already in transit to pick up the Mavic (at which point I would not have updated this thread as "Sold" until funds have exchanged hands).
Price: $700 + shipping costs if not picked up locally.
---Condition (Self-Rated)---
Drone Operation: 10/10
Operational Issues: None
Note: This Mavic pro is 100% as capable and fully operational as it's brand new counterpart. There are zero operational issues. This Mavic has never been crashed, and has only been used for the production of personal videos and montages (i.g.: My son's science projects and YouTube videos).
---Read this---
Report
:
- Description: While using a butane soldering iron to fix a race quad (in the field at a park) I set the iron down on it's stand, but then accidentally bumped the table I was at. The soldering iron knocked off the stand and rolled off the table and hit the side of the Mavic (which happened to be on the bench part of the picnic table). Unfortunately it left a superficial mark that is mostly noticeable on one particular battery, it is hardly noticeable on the Mavic unless you are specifically looking to hunt down surface flaws.
- Date of occurrence: Unsure of exact date, but an approximate date would be around 2/2017- 4/2017
- Item #1:
- Object: Mavic Pro Drone
- Description: Superficial scratch approximately 1/2" long, < 1mm wide. 75% less visible compared to Item #2 below.
- Image: See images below
- Item #2:
- Object: Mavic Pro Battery
- Description: Superficial scratch approximately 3/4" long, 1mm wide on battery casing only. No dent/puncture. The condition of the casing is 7/10.
- Image: See images below
===The Drone===
Current firmware version: 01.04.00
Model: M1P
- Note - See **Item #1 above, under "Damage"
===The Batteries===
Battery 1:
- Charged 20 times
- Status is normal
Battery 2:
- Charged 14 times
- Status is normal
- Note - See **Item #2 above, under "Damage"
Battery 3:
- Charged 11 times
- Status is normal
=== All that included ====
1 x DJI Mavic Pro drone + corresponding remote controller
1 x DJI Mavic Pro Shoulder bag
3 x DJI Intelligent Flight Battery
1 x Battery Charger
1 x Power Cable
4 x Propeller (pair) packs + the current set on the drone
1 x RC Cable - Lightning
1 x RC Cable - Standard Micro USB
1 x RC Cable - USB type-C connector
1 x Micro USB cable
1 x RC Cable Slider - Large
1 x RC Cable Slider - Small
1 x Battery Charging Hub
2 x Car charger (I'm including a second car charger)
1 x Battery to Power Bank Adaptor
===What is not included (But was part of the fly more package)===
Gimbal clamp
Gimbal cover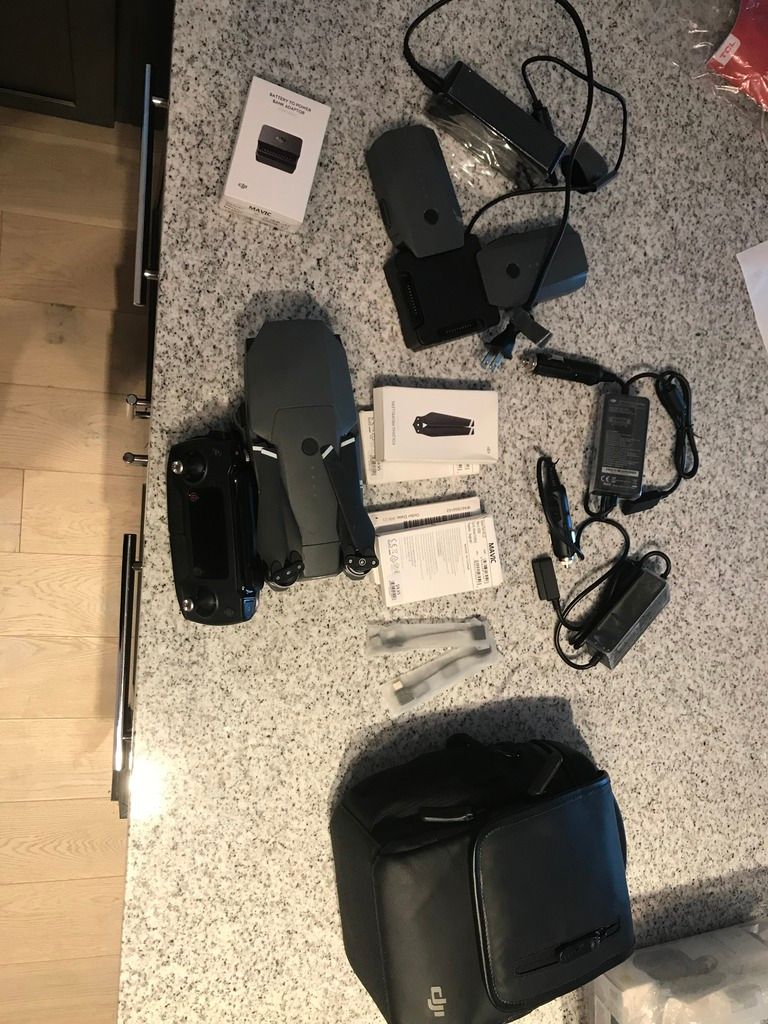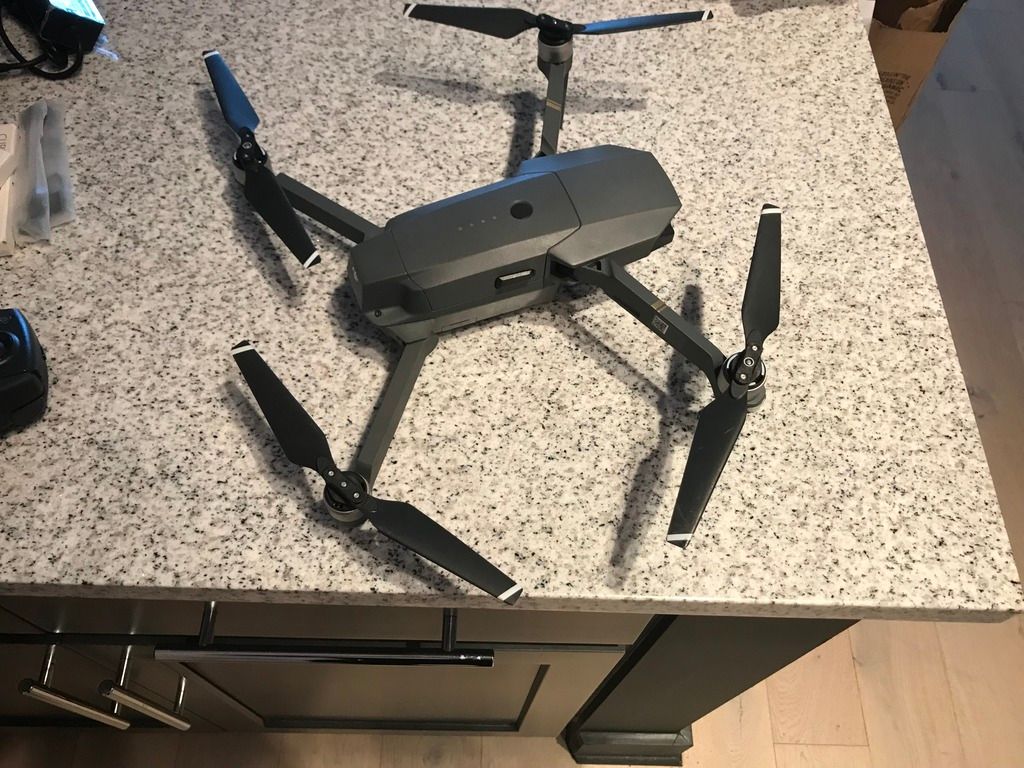 Last edited: