Hello.
I've an old Mavic Air (1).
I remember that I've changed something with the hack version of DJI Assistant 2 in past, but I don't remember what.
Now my Mavic Air max speed in normal mode is 25-26km/h (7m/s).
In sport mode I can reach 70-71km/h and there is no problem.
I'm not using the obstacle sensors, neither Beginner mode.
What I shuould check?
This is my configuration:

Maybe this?
Even if sensors are disabled?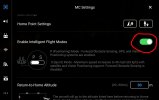 Or something here?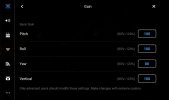 Thanks.