Drone has sold
For sale is a
Mavic 2 Pro
with the
Smart Controller
and a lot of extras. The drone was purchased new from B&H in August of 2019. The last FW update it had was in October of 2019 for those who find that to be advantageous. Recently released firmware v01.01.1600 will make this drone RID compliant.
The drone comes with:
1x 128GB Micro SD card installed.
1x
Smart Controller
with 32GB Micro SD card installed.
6x batteries w/ no swelling, always stored at 60% charge in a highly stable temperature of 62 degrees.
1x 4 battery smart charger, 100% and 60% charge levels.
2x 4-battery charging hubs.
1x USB-A to USB-C charging cable for the
smart controller
.
1x AC wall plug to charging hub cable.
1x AC wall plug to Smart Charger cable.
1x battery to USB output power adapter.
1x car charger.
5x boxes of spare props.
8x Polar Pro VND, ND and polarized ND filters.
1x spare Hasselblad camera protective filter.
1x spare gimbal cover.
1x
smart controller
shade.
1x
GPC
hard case that holds the drone, all batteries,
smart controller
and some accessories.
1x Flymore Kit bag for other accessories.
1x strobe light for night flights w/ usb charging cable.
Battery cycle counts, voltage averages 3.72V - 3.73V, none below 3.70V:
1 / 61
2 / 49
3 / 44
4 / 44
5 / 45
6/ 66
Drone has been flown professionally under my P107 which means not recklessly and is in perfect operational condition. I am asking
$1200
OBO
for the whole lot, I cover PP fees, you cover insured shipping from my location in Colorado. U.S. sales only.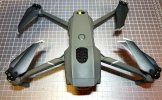 Last edited: