Joined

Jan 7, 2022
Messages

9
Reactions

9
Age

36
Location
Hello all, this is a continuation of the thread I started in the introduction page. A quick recap for those just tuning in:
I fly a magic pro platinum (mpp) and have for a few years now but there was a learning curve and after noticing some instability that was not addressed after multiple recalibrations I went ahead and ordered a replacement upper canopy and mid frame (if considering doing the same please see my post in "pernacious pro platinum pilot's potential pain" under the intro page) and so far the damage seems to be the pins in the arms and... The lower circuit board (ugh) although I MAY attempt to repair that using a non-conductive epoxy the concern there is that it doesn't work and then I have to replace the wifi board as well.... And cost-wise it puts me into the range of a new mavic air so..m I'm conflicted. Thought I would post some pictures of the repair as it stands though for the amusement of others.

The first is a reference shot for reassembly. I will tell you all that the contact points for the wires leading from the arms has been a pain In the butt to desolder and clean up: and keep in mind that's still not done.. just better than it WAS lol... Sigh..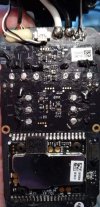 The "kit" that I got had the canopy and the middle frame but NOTHING else.. and when I say nothing I mean nothing. That meant that I ended up having to take the pieces and parts around the sdcard slot and transfer them (thank GOD I have a magnification setup cause.. well.. see for yourself)


So what your looking at is the little plastic window and all the tiny little bits that are in that area and whomever designed it like this is just sadistic!! But it's in there. I will have to end up getting a new vinyl skin as well because the shell I got isn't the same color.
So some pictures to show why I love my mpp are in order I think but if you're joining in from the other thread a couple of thoughts. 1. Does anyone know of a good non-conductive epoxy? And there has been a suggestion that, despite the diminutive size, I might be able to replace the swing down portion of connection that is busted (I'll post the pic showing it as well)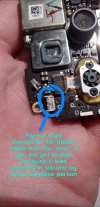 Any suggestions anyone might have as to any part of this process are always gratefully accepted!
Now for some fun. Just a couple pics I had lying around not being used. Enjoy!