Joined

Mar 29, 2021
Messages

450
Reactions

591
Location
I had been frustrated trying to figure out a good photo editing tool to enhance my photos. I had been shooting in RAW but I wasn't getting a good result. I decided to dig in with Lightroom and finally figured it out after watching quite a few videos. Now I feel I can make enhancements with purpose rather than just moving sliders around willy-nilly hoping for a good result. Creating HDR images from bracketed shots is pretty amazing. I now fully appreciate what shooting in RAW allows you to do in post processing.
I thought I'd share my excitement here with some of my favorite shots so far. The corn maze shot has gotten a really good response here locally.
This is a corn maze from a local farm. I wasn't expecting it and stumbled upon it as I was flying around the farm.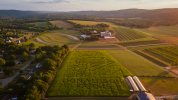 This shot I got by happenstance as I flew up the side of the mountain behind my house. The setting sun caught some of the trees but not others. I wish I could say I purposely tried to get the motion blur of the cars
.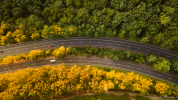 While on vacation there was a really great sunset in Edenton NC. I positioned my drone to get the sun in the top of the lighthouse. The shot was a mess regarding exposure but Lightroom let me bring it to life and give it some pop.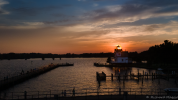 This last one I have a love/hate relationship with. It's washed out looking to me with the light of the sunset casting a haze over the entire image. I really like the sun flares in the lens and how looking at it makes you want to squint even though you are just looking at an image.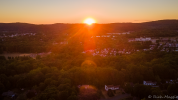 Last edited: