Joined

Feb 26, 2023
Messages

110
Reactions

132
Age

60
Location
Let's say that I'm flying VLOS but past the other side of a tall large object (hill, mountain, etc). And for whatever reason I get into a RTH situation (battery low, interference, controller issue, etc).
I know that the drone will ascend or descend as needed to get to the RTH altitude and then execute the RTH flight.
If the large object is now between home and the drone what will the drone do? Will it try to fly around the object while trying to get back to home? Or will it try to go over the object even if the object is taller than the RTH altitude (but less than the altitude limit set in the controller)? or will it just give up and hover until the battery dies? I'm assuming the OA will still work and it won't just blindly fly into the side of the mountain.
What got me thinking of this scenario was on my current trip to Colorado I had pulled over onto a pull off and flew my drone around the mountains there. I had my altitude limit set pretty high so I could go over the mountains (but staying within 400'AGL of course). But since I didn't think about resetting my RTH altitude that got me into a situation where the RTH altitude was lower than the peak of the mountain between me and the drone.
Heck, I bet that my RTH altitude was below ground level at several points as I was flying around the mountains. So another question would be what happens if the drone tries to go to the RTH altitude but can't get there because the ground is in the way?
Here is a ridiculously quick and crude illustration: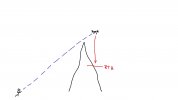 Obviously everything worked out OK but I got to thinking about it later and I realized I could have gotten myself into a bit of a pickle if something went screwy.