Crashed (and lost) my
Mini2
recently while flying it overseas.
I'm guessing the cause will be determined to be Stupid Pilot Error. I do have DJI Care Refresh, with Flyaway coverage (though I'm not sure if Fly-Into-A-Mountain coverage qualifies...). So I have some questions before proceeding.
I'm from the USA. I was vacationing in Thailand -- in the south of the country, a region with amazing scenery, beautiful limestone islands that steeply rise up straight out of the sea (example below). I figured it would be a great place to get some spectacular video of the landscapes. And it was. Until I crashed the drone into the side of one of those rocky islands. I had launched the Mini from a small boat (the boat was stationary, moored in a bay, should not be an issue). I flew it up and around a little island or two, getting what looked like nice footage. I brought the drone back after about 20 minutes to swap in a fresh battery. Everyone was impressed as I landed it perfectly on a tiny flat spot on the boat (the only flat, level spot on the boat, just slightly larger than the Mini itself). Filled with confidence, I swapped in a fresh battery, and sent it up again, this time to do a wide circle around the little island. It was up fairly high (around 125 meters IIRC), with (I think) solid GPS reception and a good connection to the RC, very light winds, a full battery, clear skies, everything seemed good. Trying to frame my little island, I backed it up, a little further back, a little further back... then I saw something black for an instant, the drone tumbled, and lost signal. At first I thought it must have been hit by a bird, and fallen into the sea. But I dug out the video clip of the last few seconds of the flight and it looks like...holy cow, it hit a tree branch as I was backing up. So as I was trying to view one island, it hit a tree very high up on another island while backing up. D'oh!!! The terrain on these islands is extremely vertical, rocky, with scrubby jungle trees in places. There's no going back, no climbing up to look for the thing. It's way up, on decidedly inaccessible terrain.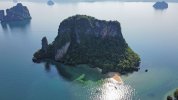 I have not (yet) pulled the log files and reviewed things, but it seems pretty clear that I just flew the thing (backwards and sideways) into a remote, rocky peak. Oops.
OK, so now my questions about the process for using DJI Care Refresh...
I assume I contact DJI and they will tell me what to do. Before doing so, I'd like to get an idea of what to expect.
My lost drone is a
Mini 2
, which I've had for about 9 months. I do have coverage which should be valid for "flyaway" -- though that term is not completely clear to me. Am I covered if I stupidly fly it inadvertently into a rocky, inaccessible hillside where it is lost?
Assuming that stupidity
is
covered, what are my options (besides another air ticket back to Thailand)? How much do I get back? What is my "deductible"? Is that benefit only applicable if I want to apply it towards payment for a replacement of the same drone?
The
Mini 3
is about to be released (it seems). Could I have the DJI Care Refresh benefit applied to the purchase of a
different
model (the
Mini 3 Pro
), or only an exact replacement (
Mini 2
)?
Are there any "gotchas" I need to know about before I approach DJI?
Thanks for any guidance.