OK its not a crash or flyaway as such but its the second time its happened now.
Flying my
Mini 3 Pro
in a rural setting (no interference). Drone clearly visible some 240m away and 90m high, just hovering whilst thinking how to compose a shot.
Signal indicator showing full strength, clear path line of sight etc.
For no reason i can see it suddenly went to "Aircraft disconnected" with no warnings or prompts on the screen. Drone also unresponsive to the sticks, just hovering.
Closing/reopening the fly app did nothing, neither did restarting the RC-N1 itself.
After a while the drone eventually RTH'd and landed. Given the
Mini 3
lacks precision landing i was lucky - it landed about 2m from the takeoff point and about 1m away from a river...This is why i miss precision landing!
Unfortunately it seems unlike Go4, Fly removes the .DAT and TXT files after upload so ive got no way of extracting proper data from the phone itself so the only info i can provide is AirData.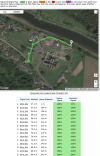 At no point was i able to reconnect with the drone, even stood next to it.
Power on/off cycling the drone itself immediately reconnected and the flight repeated with no issues.
The only thing i did notice was a longer than normal time writing files to the SD card after taking an image. This card was as always formatted immediately before the flight and has never given me any issues before or since. It also scans OK in a computer. All images and videos taken are fine and uncorrupted so this COULD be unrelated.
Im wondering if its a CPU load issue causing slow writes and then going completely unresponsive. Its clearly not an actual signal strength issue.
It happened to me once before some 30 or so flights ago, again no more than 150m away and in clear sight.
Anyone else seem similar or hazard a guess as to what went wrong? The failsafe worked in that it returned home but obviously thats far from ideal and without precision landing could result in loss of a drone if the area is somewhat tight.