Running all latest firmwares as far as I've been prompted to update.
When I try to download a media either from the mini internal storage or an sd mounted to the drone, I get this error message:
"Downloading files not supported on current remote controller. Connect phone to aircraft to download"
Any idea how this can be done?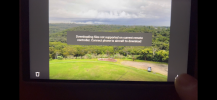 On a side note, can't seem to get QuickTransfer to work either following the procedure from the manual. Nothing shows up in the DJI fly app on my phone.
Thanks!
Last edited: