Hello,
I recently bought a second hand
Mavic 2 Pro
with the idea to replace my
Air 2S
that I found disappointing with Litchi waypoints missions.
After having calibrated IMU and compass, I decided to realize a short test-mission in my neighbourhood in order to compare flight capacities, photos and films shot respectively by my old Mavic Pro (Jan. 2017) and by this
Mavic 2 Pro
.
I used first the Mavic Pro and the mission went pefectly (nice weather, no wind, short distance low speed). Then I sent the
Mavic 2
on the same mission with the same success till almost at the end, when the drone passed close to a tower of an old castle and stopped, then flying very slowly in direction of this tower.
I could well observed it since I was located some 80m from this tower and it was flying so slowly that it looked immobile. But the video showed without any doubt that it was approaching dangerously the tower. At the last moment, I pushed the right stick back without any effect (at 4m 31.4s in PhantomHelp) and it hit the stones a fraction of second later, broke two propellers and fell to the ground roughly 20m down. Apart propellers, damages are limited to to the left landing gear front leg.
I have no explanation for this strange behaviour and there is no error message in the log if I believe PhantomHelp :
DJI Flight Log Viewer - PhantomHelp.com
However the only message strangely displays "decollage en cours" ("Take off started") while the drone has crashed some seconds earlier (at 44m 42.
2s
).
Also, just before the stop, I remark that the
Mavic 2
deviated from its trajectory, if I compare to what did the Mavic 1 some minutes earlier (sea attached screeshots taken from CSVview, yellow arrow).
Could this be due to the setting sun ? Both drones were at this moment flying backward in direction of the sunset and only the
Mavic 2
has back sensors for O.A. I already had this problem with my Mavic 1 while the drone was flying forward in direction of the sun. The drone stopped suddenly during the mission and I had great difficulties to resume the situation.
Thanks in advance for your help because I lost confidence in this drone.
Mission here :
Mission Hub - Litchi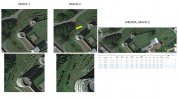 Last edited: