Joined

May 11, 2020
Messages

1,037
Reactions

875
Location
I am trying to put together a set of Excel formulas for transforming the raw accelerometer data into xyz speed for crash analysis. In the thinking process. I got stuck in understanding the definition of pitch, roll and yaw provided in the log file.
Then I did a test with my
M2P
indoor. I put it into hovering at my chest level, grabbed it firmly with my hand, with the lateral axis of the craft maintaining level, I swang my arm down until the nose of the craft pointed to the floor. In actual flying, this will happen if both of the front motors suddenly lose thrust completely. This is a simple change in pitch angle from 0 deg to -90 deg plus some small loss in height. I did it twice.
Then I put the craft back to level and changed the roll angle from 0 deg to -90 deg by simply twisting my arm by that amount. Again, it was done twice.
The results are as follow. What puzzles me is that when I did the pitch change, the log indicated a simultaneous change in yaw and roll. Doesn't make sense to me. Does anyone know why ? The log file is attached. Sorry, no .DAT because my RC model is RC1B
The drone has been working flawlessly so faults can be ruled out.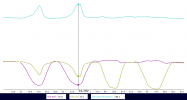 Last edited: