Joined

Oct 11, 2018
Messages

66
Reactions

34
Age

61
Location
Now, the crucial issue would be to go there, pick up and return safely. Maybe you can help me getting additional confidence. Search description at the end of this text.
The story:
In March 21 my MPP disappeared from the sky due to a midair shutdown, caused by a combination of pilot error and a rapidly collapsing Battery cell (see link to thread below).
Final MPP Flight - Loss and Learning
The MPP was pre-owned with a 3rd Party Battery.
At the time of the accident, I had no idea what happened, but only was aware that the last GPS coordinates point to a fairly inaccessible area close to an adjacent rock cliff. At that stage the search attempt was aborted.
At home, the FlightLog analysis disclosed the details of the incident. Thanks to
@msinger
(CsvView) and
@sar104
(deep insights into Flight Log Analysis and impact point determination), I calculated the crash site to at least additional 85m/250ft down the flight path (iteration, unfortunately no differential equation).
With the adapted coordinates, a first recovery attempt (spring 21) was started. However, the area seemed to be even worse in terms of accessibility. Difficult terrain with rock walls and slopes between 45° and 90° prevented any on site search. Frustratiing.
The only achievable result was a set of aerial shots of the flight path and crash site made by anothe AC. The images had to be taken from relatively high altitude of ~ 30-50m/90-150ft to avoid running into the surrounding tall trees and rock formations.
Looking at dozens of images, searching for a small pattern as an MPP – my confidence to find anything was nearly zero. If any of you ever tried to identify such an object on an aerial landscape image with trees, bushes and all other kind of vegetation...
Surprisingly, I found something. In fact, there were more somehow fitting objects, but apparently, several rocks and snow dots did also fit into the search pattern. This way, if you have checked enough images you start believing to have found plenty of Mavics – or nothing. For me that meant, that I put the results aside - until the next recovery attempt.
In Summer 21 my second recovery attempt took place. I wanted to explore a new route to the bottom of one of the rock faces, with potentialy better options to climb and reach the crash area. Failed again and was still away by about 100m/300ft.
Again some aerial shots were retrieved and with changed scenery due to the summer vegetation. Almost unbelievable, but when investigating the images, there was one shot (same spot and orientation) as the already mentioned one from Spring. And despite the bushes and the leaves, it revealed a place with the same suspicious blurry object.
That's the point where I am now – more than 1 1/2 years later. Probably located now but not quite sure because of the blurring when the photo is enlarged. Maybe there is some Bias in my search as well – if you want to find a certain object, you might start to recognize it everywhere.
Reliable and precise location is vital for my next attempt. Even a small horizontal difference of 5m/15 ft from the calculated impact spot might sum up to a vertical deviation of up to 50m/150ft, with respective consequences for the size of the search area. One simply can't go there and look around, you have to narrow down your target spot beforehand.
So, if you want to come to your own conclusion reg. its location, here are the images:
Crash area (Partial mountain view with location marker)
Crash site in Summer 2021
Crash site in Spring 2021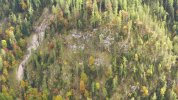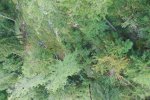 Link to max. resolution:
b_Crash-site_Summer.JPG

Link to max. resolution:
c_Crash-site_Spring.JPG
Please note:
The terrain, shown in the images, is not flat but rather steep (45° up to 90° angle).
There are various MPP shaped patterns (reflecting Rocks, Snow, Wood)
Lowest altitude AGL should be at least 30m-40m / 90ft-120ft AGL
Object: Mavic Pro Platinum (Silver) with dark grey Battery
Can you spot the MPP with confidence?
For those of you who don't want to waste their time turning the pixels upside down, and if there are no findings / replies in the meantime, I will post the same images but with position markers later on.
Anyway, I am now preparing for the 3. (and definitely last) recovery attempt. This time with a rope to get somehow down the cliff and close to the probable location. Btw., hanging below a Rock Face is not one of my favorite hobbies.
No need to say that there is no Business Case in it, as the MPP is now sitting for 2 winters in the harsh conditions of the Alps. Nevertheless, I would like to remove it from Nature...and I am curious about its condition.
Thanks!