Joined

Aug 19, 2021
Messages

4
Reactions

0
Age

50
Location
Hi,
Just had a very strange incident and very costly accident with my
Mavic Air 2
.
Just travelled to Jamaica to record footage of a project i am doing at the local reservoir.
Setup my
Mavic Air 2
at side of the reservoir and launched and lifted up to about 15ft. I usually then try out all movements to check for problems.
So far nothing wrong. I then flew out about 40 meters to try and track a USV that we had in the water. On the flight to it the
MA2
dropped and then lifted in altitude on its own. It was not a lot but being over water and being a bit cautious i decided to return back. I turned round and about 10 meters from the edge of the RES the
MA2
stopped as if collision avoidance halted it. Then the app bellowed out MAX FLIGHT DISTANCE REACHED. Seeing as i was returning to home point i could not see how this was possible.
I tried every direction to move from being over water with the same result when the drone got 10-15 meters from shore. Almost like an invisible force field around the reservoir.
This carried on until the low battery warning at which point it tried to return to HOME itself. Instead of moving it proceeded to land exactly where it was over the water. So i quickly cancelled the landing and tried to move again with no luck. eventually i had to sit there and watch it hover over the water until the battery ran out and it crashed.
Anyone know what the( Mod Removed Language)happened here.....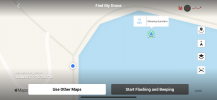 thanks
Last edited by a moderator: